As a Kosovo citizen, in possession of only a Kosovo passport, the list of countries where I can travel visa-free or visa on arrival is relatively short (only 41 and this number also has to be confirmed). I had set myself a goal to reach 30 countries by 30 years old; however, working full time, struggling with visas, and non-recognition from many countries made this goal impossible to reach. This is why I am using a "cheat sheet" and will extend this "deadline" until January 6, 2019, as I'll still be 30😉.
I was hoping to use my two weeks of Christmas/New Year holiday to make a trip to Georgia, Iran, and Jordan. After researching on Georgia and contacting their Foreign Ministry I understood that Kosovo citizens, even if they have a valid US visa cannot enter Georgia which is allowed for all nationalities. Iran was taken out of the plan for several reasons. The main reason was that my family and friends were terrified when I expressed my desire to visit it. Another one was the lack of time, I'd have to go to Tirana, Albania and apply for the visa and then wait (as someone in a Facebook group said) for three days for their response and I didn't have all that time. A plus reason was my fear of having issues when visiting the US, although I guess this wouldn't dominate if the two first ones wouldn't be strong enough to change my plan.
Thus, I was left with Jordan only. Being a Middle Eastern country, it also raised questions about safety among my family members and friends; however, I had done my research and calmed them down and kept doing it while posting some posts in social media (almost) every day while I was there so they could see that everything is fine.
7 things to know before going to Jordan
1. Cash is widely used, meaning even at hotels you'll pay in cash (at least in all those I stayed I had to pay in cash – even in the luxury one I stayed in Aqaba). Jordan uses Dinar and you can exchange your currency or withdraw money from ATM when you are there in case you don't fancy carrying cash with you.
2. Jordan Pass is very useful in case you have to pay for the visa and want to visit Petra and other attractions. I got the Jordan Explorer (75 JD) that included two days in Petra. Since I had to pay 40 JD for my visa and 55 JD for Petra, the Jordan Pass was a great deal and a money saver (even without adding the other attractions I visited).
3. Some basic Arabic words would open many doors for you and definitely make the locals be even friendlier than they are. We have to accept that we love when tourists say few words in our language, right? Words like shukran (thank you) – or afwan (you're welcome) – are easy to remember and pronounce. And the thing is, even if you say shukran they will still respond with "you're welcome". 
4. Jordan is very safe. I traveled solo and never felt in danger of my safety throughout the two weeks I spent there. I drove around Amman and to Jerash, Mount Nebo, and Madaba alone and had no issue whatsoever. However, as in all places, you have to be careful of your surrounding and use common sense as you would in your own country.
5. Locals are very friendly and hospitable. I have had wonderful experiences throughout my travels with locals; however, nothing so far compares to the way Jordanians welcomed me. The trip was in part also a gift and celebration for my birthday and I received two gifts (in addition to countless teas) from a shopkeeper in Amman when I was buying myself some gifts.
6. Transportation is not reliable in Jordan. The best way is to rent a car in Amman and go around since Jordan is not that big and even day trips from one point to another are doable. Also, there is no transport for instance if you want to go from Petra to Dana or Wadi Araba and you'd have to hire a taxi; therefore, rental cars come as a great rescue.
7. Friday and Saturday are weekends in Jordan, so if you're planning to visit certain attractions make sure they are open before you head to them. I went to visit the Castle of Aqaba on Friday and it was closed, so I only got to see whatever I could from the outside.
Must-see places
Wadi Araba – a non-touristy desert only 40 minutes drive from Wadi Musa. There are no camps yet, so if you want to camp there you'd have to bring your own tent. However, being so close to Wadi Musa you could go and spend few hours and then go back to the city. On the way to Wadi Araba, there is a viewpoint which gives you a wonderful scenery and you should definitely stop and take a picture there.
I went there before the sunset and the view was amazing. Also, I couldn't rent a 4×4 car which limited me from going further to the desert but even that small part I saw made Wadi Araba the highlight of my trip.
Petra – well, this is one of the main reasons tourists visit Jordan anyway. So it goes without saying that Petra is a must. Initially, I planned three nights (2 full days) in Petra and ended up spending 4 nights there. There are many things to experience in the new world wonder, Petra, apart from visiting the Monastery and the Treasury and taking that picture from above which are definitely the highlights.
I liked the hike in Petra and going a bit off the beaten path which helped me "find" beautiful, colorful, little caves. I loved, in particular, finding spots with no tourists (that's really hard in Petra, right?) and enjoyed looking around and finding a place where I could sit still for few minutes and just observe the world wonder.
This slideshow requires JavaScript.
Little Petra is something people usually miss when visiting Wadi Musa as they all get preoccupied with Petra only, being one of the new seven wonders. However, Little Petra is a lovely place to see, not far from the city and it is free if you have already purchased your Petra ticket. Also, Little Petra is the start of the hike if you decide to do the back way to Petra as locals call it – starting with an approximately 40 minutes hike (depending on your speed) to the Monastery and continuing towards the Treasury. You'll need to drive there or take a taxi, which should cost max 15 JD.
This slideshow requires JavaScript.
I took the back way from Little Petra to Petra in order not to do the hike to the Monastery and back all the way to the Visitors Center. Along the way, there were beautiful views, no people until I reached the Monastery (and there were around 10 people in total, so I could have a clear picture with no people around), only a shepherd and a woman selling different stuff and tea.
This slideshow requires JavaScript.
The back way I took helped me save time and also avoid the crowd by the Monastery. I am thankful for this suggestion to Ali, a tour guide in Petra, whom I met by accident the night before after having eaten that wonderful shawerma. He is very helpful, resourceful, and well-connected and after that, I turned to him for questions and advises. If you are considering having a guide in Petra, contact Ali and he'll guide you there. At one point, when I came to the Treasury and wanted to go up to the viewpoint and understood that I am not allowed to do it without a local guide, I called Ali who came to my rescue and took those beautiful pictures from above and took me out of Petra through the Indiana Jones path.
This slideshow requires JavaScript.
I even spent a night in a cave near Little Petra (which was not planned at all) after hearing so many tourists doing it. Ali and his brother, Jamal, cooked a traditional dinner which was very delicious, and sleeping in a cave was a first for me.
This slideshow requires JavaScript.
Wadi Rum Desert – I spent two nights in the Full Moon Camp, including the New Year's Eve. I loved the desert, the calmness of the place, the beautiful scenery, the traditional food bedouins prepared, the camels I saw around the desert when on tour and the people I met (both locals and tourists). There was no signal for my phone (Kosovo number) and no WiFi so I really enjoyed being disconnected from the world but at the same time connecting more with my inner self and the nature and just thinking about how 2017 went and what should I do better in this new year to have an even better year.
The Camp was very well settled and furnished. I wasn't expecting a comfortable bed with many layers to keep me warm at night. In addition, a very good breakfast and dinner were served and during our desert tour, there was lunch prepared in the outdoors which was very tasty. There was lots of fun and new friendships established and it was a great start to this new year.
This slideshow requires JavaScript.
The desert tour included several stops. Initially, we visited a canyon and then hiked to a sand dune, which provided for a wonderful view. However, the best was yet to come – what our guide, Yaser, called the Wadi Rum Paradise. Indeed, it seems like paradise. With all that wide open scenery, one feels in total peace and that makes you just forget whatever concerns you might have. We were also taken to a spring and then to the two windows: the big one and the small one.
This slideshow requires JavaScript.
Dead Sea – going to Jordan and not visiting the Dead Sea is impossible, I know. I went to the Dead Sea for almost the same reasons everyone goes; to see if you can really float there and to put clay in the face and body. Driving there takes about 50 minutes from Amman, and there is free of charge beach that you can use or you can decide to go to the one where you pay 10 JD.
Ma'in Hot Springs – in case you want to experience some natural sauna and a hot natural waterfall, then go to Ma'in Hot Springs. There is an entry fee of 15 JD for tourists (10 JD for Jordanians and residents of Arabic countries) and the resort offers three pools and a natural sauna. After spending some time in the Dead Sea, this visit was very welcome and relaxing.
This slideshow requires JavaScript.
Jarash (or Jerash) – a not to miss attraction if you love history and culture. Jerash is only a 50 minutes drive from Amman and you only need half a day there. There are ruins from the Roman rule and Jarash is known for the preservation of the Roman provincial towns in the world.
This slideshow requires JavaScript.
Amman – I would say there are three main things you shouldn't miss in Amman: the Citadel, the Roman Theater, and King Abdullah I Mosque or known as the Blue Dome Mosque.
This slideshow requires JavaScript.
Shobak Castle – Shobak castle, of 12 century, was not exactly in my plan; however, on the way to Dana Biosphere Reserve it was too foggy and plus many people said in winter there's not much to see. Therefore, I drove to Showbak castle which was interesting to visit, too cold as well, and the most memorable part was the Roman guard who gave me his sword for the picture.
This slideshow requires JavaScript.
Mount Nebo – going up to the Mount Nebo takes about an hour from Amman. This site is mentioned in the Bible as the one where Moses could view the Promised Land. Up there, in a clear day, you can see the Dead Sea, the Jordan River valley, Jericho, Bethlehem, and Jerusalem. You can also visit the Moses Memorial Church and the Monument to Pope John Paul II.
Madaba – I only spent about an hour in Madaba as I went there on my last day and had time to only visit the oldest Byzantine mosaic maps in the world from 6th century showing Jerusalem and other holy sites.
This slideshow requires JavaScript.
Aqaba – I had a good time in Aqaba meeting with new people who turned out to be friends and swimming and snorkeling a bit in the Gulf of Aqaba (although I hurt my toes and couldn't walk properly for the rest of my stay). The weather was perfect and I even got tanned for one day I spent by the beach. I walked around the city and visited a market which was organized and various things were sold, the street where many restaurants were there and the next morning I visited the castle (which I could see only from outside since it was Friday) and the street with graffiti. What impressed me was a very beautiful painted boat which reminded me of Thailand, but still had its own beauty.
Jordanian food and drinks
Whenever I travel, being picky as I am, I struggle to fill my stomach and always seek some Italian food like pasta or pizza every three or four days. However, I always try the local food as I believe that is what completes a trip in order to almost fully understand a culture. This trip to Jordan, I almost never ate other than Jordanian food (only once I ate Chinese food because there was it or McDonald's and there is no Chinese restaurant in Prishtina and another time I had a burger because that was the only choice I had). So, here is a list of the food I tried and loved and kept me healthy throughout my travel.
Mansaf – I was staying nearby Jameeda Khanum restaurant in Amman and went there for dinner one night. To my surprise, there was live music which I enjoyed a lot. I was the only non-Jordanian there sitting alone at a table for two, drinking my ice tea and trying the traditional food of Jordan – the mansaf, which contains lamb and rice. It looked really fancy and so lovely decorated that I took my time to start eating it not wanting to ruin this beautiful view.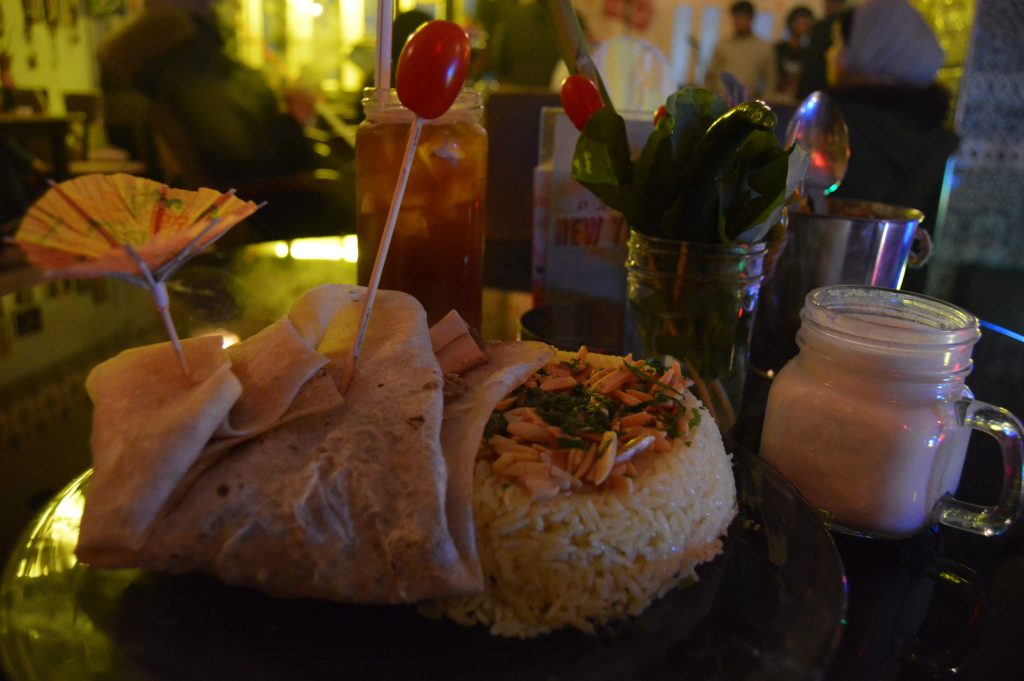 Shawerma – I ate shawerma in one of the best restaurants (according to the locals I met) in Wadi Musa – Al Fandi (which only cost 1.5 JD). A welcome tea was served to me for free from the restaurant (this happened many times throughout the travel). So if are in that area or want to try that shawerma then go there. If you're looking for something fancier, you can also try the Why Not restaurant nearby.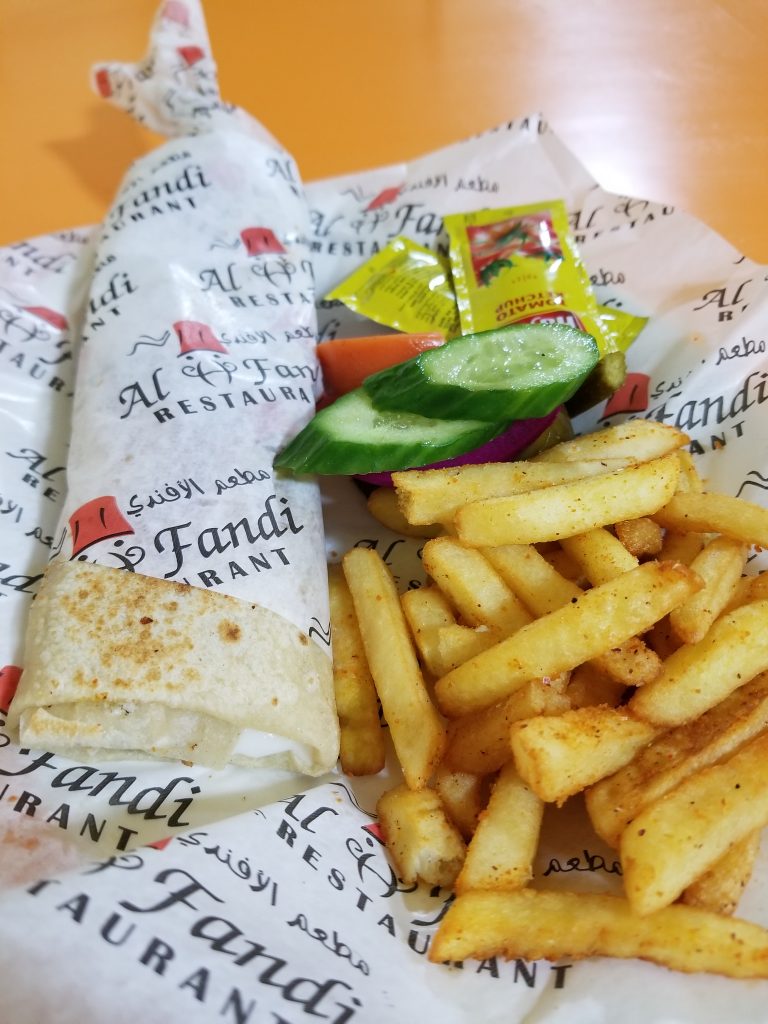 Sayadiya – I had spent the day at the beach and upon return to the hotel I was staying in Aqaba, the Dweik Hotel, I started feeling hungry. I went downstairs to the reception to return the snorkeling equipment and asked the receptionist (who turned to be the manager/owner of the hotel) if he could recommend me a place to eat. He then said they'll have a celebration at the other Dweik Hotel and I was invited to join them and try the Aqaba traditional food – Sayadiya. I was hesitating and didn't want to become a burden (thinking people won't speak English and I'd just crash the gathering); however, he was insisting so I went. The gathering was actually the birthday dinner to one of the employees at the hotel. They had prepared everything for a celebration (Sayadea among others). This is a dish containing fish cooked in layers of rice.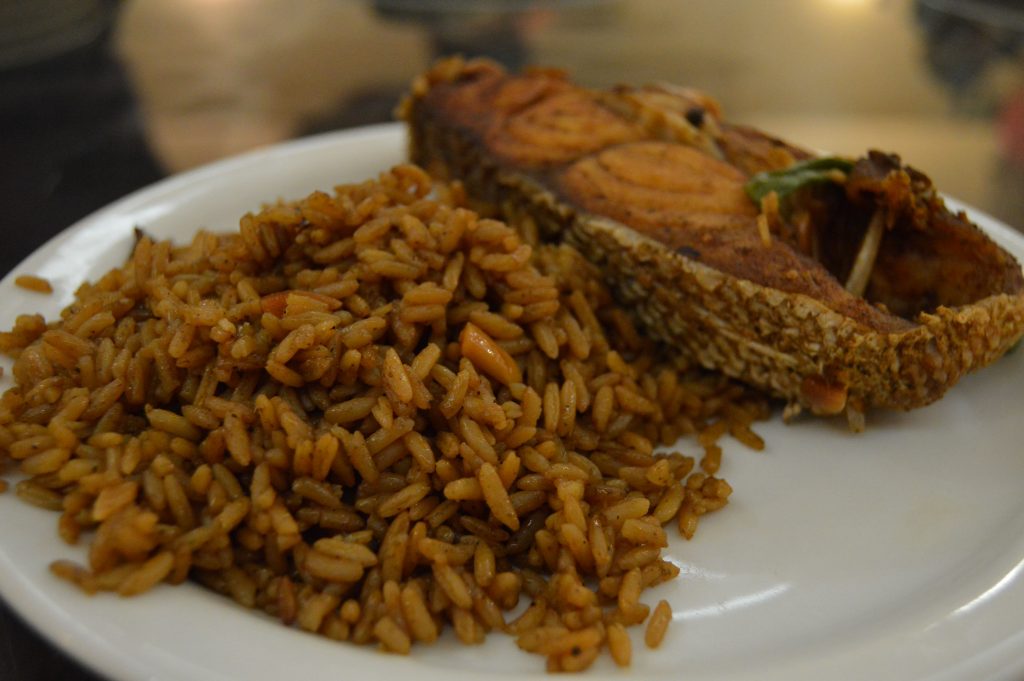 Zarba – For New Year's Eve, at the Full Moon Camp, the cook had prepared this traditional food called Zarba, which contained lamb, chicken, and beef cooked in the sand. The food was delicious and they said the process takes hours. It was a special dinner for a special night and I loved it the same as I loved every other food I tried in Jordan.
This slideshow requires JavaScript.
Tea – tea is everywhere in Jordan and consumed at any time of the day. It is a welcoming drink the same as we have Turkish coffee in Kosovo. Sometimes they put some mint or other herbs. When prepared at the Bedouin camp in Wadi Rum or in other places for more people it was very sweet (I stopped putting sugar in my tea about a year ago); however, it was tasty and a good conversation starter.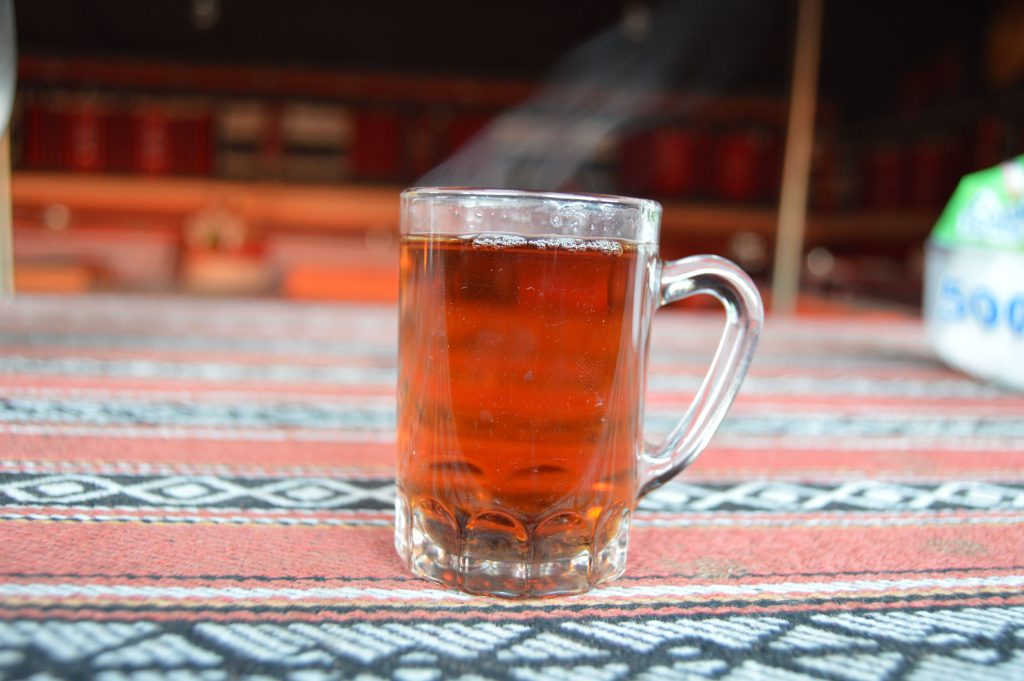 Beer – many people were surprised when they saw a picture I posted on Facebook of the Petra beer. This beer is brewed in Jordan and during a conversation with the hotel owner in Amman I understood that there are more types and that Petra is not among the best and that Jordan produces wine as well. There aren't many places that sell alcohol; however, this doesn't mean you can't find any. You just need to ask a local person and they will point you in the right direction. Since it's scarce, alcohol is expensive; therefore, if you're planning on consuming alcohol maybe check with the DutyFree before leaving the airport so you pay less or be prepared to pay more depending on where you purchase alcohol.
This slideshow requires JavaScript.
Birthday dish – since this trip was in part a gift to myself for reaching the milestone of 30 years old (young), I went for a birthday dinner, a local one. The hotel owner in Amman recommended Shahrazad Restaurant and I went there. There was no menu to look at, so the waiter started telling me what they serve. I ordered a kabob with tahini sauce which was my special birthday dish. It looked tasty and it was tasty, although I couldn't eat it all (I have a small stomach).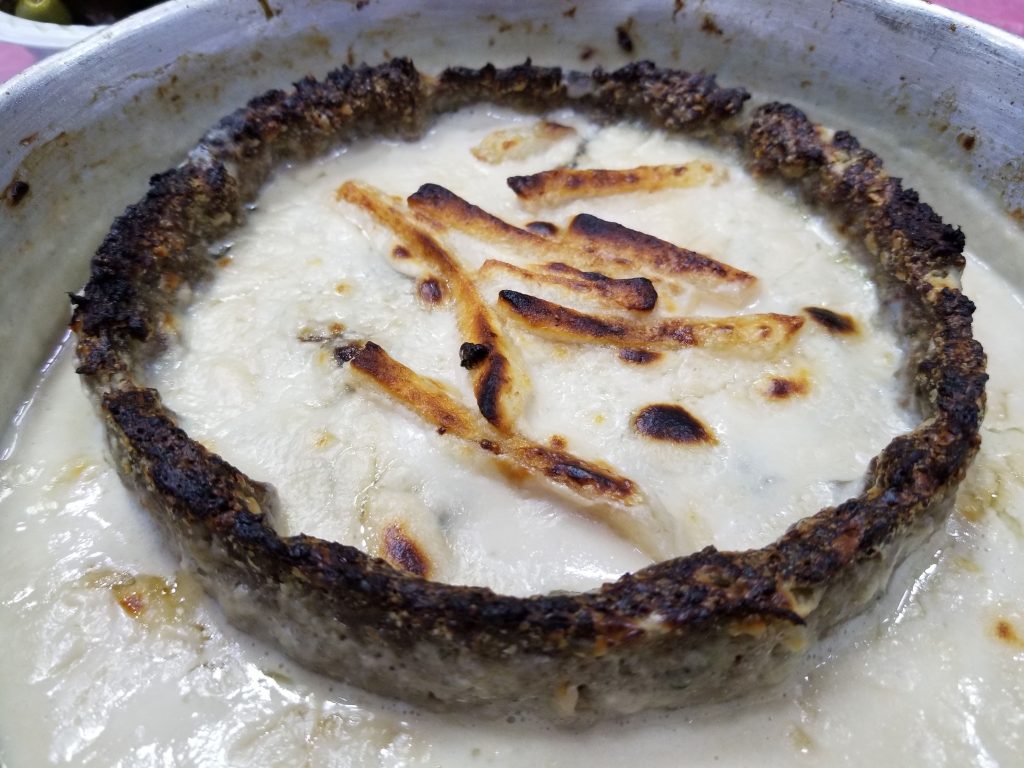 Jordanian hospitality
Frankly speaking, I didn't have a clue how Jordanians are and how I would be treated during my visit there. I knew I would be safe because I had read many blog posts of other female bloggers who had traveled there. However, a friend suggested I get a sim card and she lent me her phone which I didn't use at all. Upon return, I joked with friends and coworkers saying that as soon as I stepped out of the airport, I looked left and right and said to myself "OK, it's safe. I don't need a sim card."
I had many giveaways during my stay in Jordan, some big and some small and they all made my stay wonderful and won a special place in my Jordan memories.
In Aqaba, I went to Pistachio Sweets and after wandering around (I don't eat sweets anymore as much as I used to), I decided to get only one for myself. When I wanted to pay, the cashier said it's free.
The invitation to the dinner I mentioned above with the Aqaba traditional food, sayadiya, which turned out to be a birthday celebration, was another way of Jordanians showing their hospitality. I spent a couple of hours with the hotel employees having dinner and cakes and became friends with them. Later on, some Russian tourists joined us as well and we spent some good time dancing and talking about many things (and making fun of the broken English of the Russian guys).
This slideshow requires JavaScript.
My visit to Jordan included my 30th birthday too. I decided to have it celebrated in a very different country and doing things that I will always remember. I spent a few hours by the Dead Sea (where my sunglasses "died" – I lost them there) and continued to the Ma'in Hot Springs, and then returned to Amman and went out for dinner and some shopping. In one of the shops I entered and purchased two symbolic gifts to mark my milestone, the shopkeeper surprised me by giving me two other gifts when he understood that it was my birthday. I don't think this would happen anywhere else.
I also got a free ride from Wadi Rum Village to Wadi Musa from a random guy who spent the New Year's Eve in the same camp and was driving to Amman. After I left for the village to catch the bus to Wadi Musa, I remembered that I had forgotten my power bank so we had to go back and get it from kinda midway to the village which in turn made me miss the bus. The guy then drove me all the way to my hotel for free and continued on his way to Amman and the border with Israel to drop another girl who was going there.
On the way to Wadi Rum Village, my taxi driver stopped by the train station and took some pictures of me inside the train and also outside of it. The train is only for goods transportation, although I believe it would be great to have one for passengers as the views must probably be breathtaking.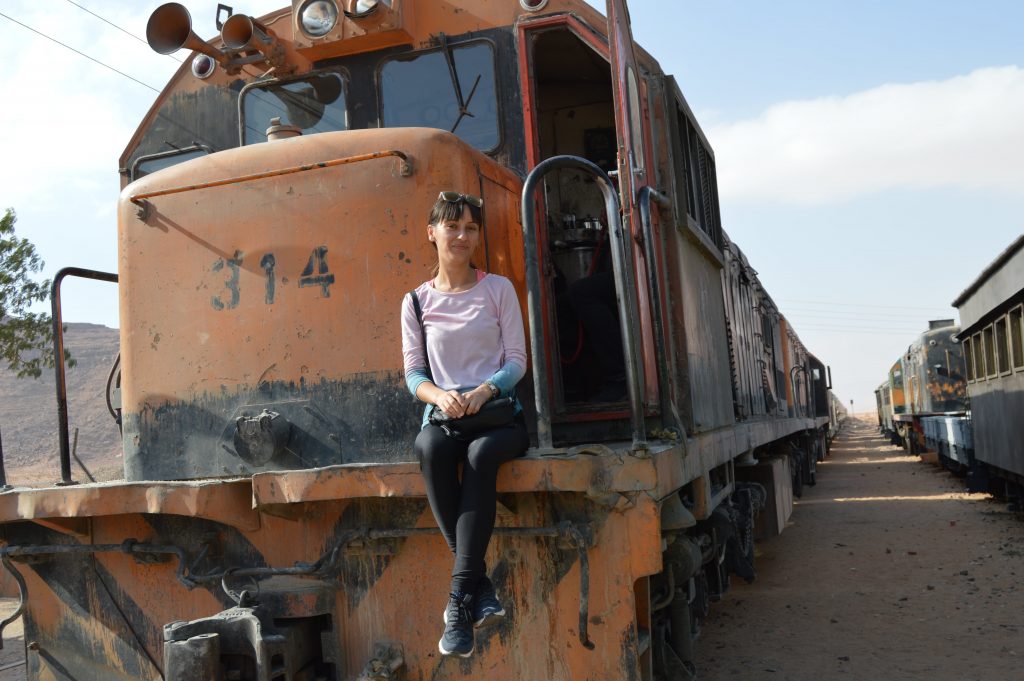 In Wadi Musa, when I went to exchange money at the Western Union, I asked the guy working there, his name is Hussein (I hope I'm spelling it correctly) how to go to Little Petra. He asked if I'm planning to stay long and I actually didn't know how long it takes to visit it so asked him back how much time I need there. Long story short, Hussein drove me to Little Petra with his car, came around with me and took some beautiful pictures I posted above from Little Petra, and then drove me back to Wadi Musa for free. I went back a second time to the Western Union to exchange some money and thank him again, but he wasn't there at that time.
The last moment I will mention is the invitation I got for Jordanian coffee in Amman from the owner of the Arabian Suites where I was staying. Rajai, the owner, lived nearby and he invited me to have the real Jordanian coffee and some Christmas cookies and we spent some time with him and his wife talking about all kind of topics (most of them unfortunately about the unavoidable topic of religion, alcohol, and women's position).
Street art
I like wandering around places I visit with no plan or destination and that is when I find beautiful spots like the ones in the pictures. Street art is something that fascinates me and I found it in many staircases in Amman and also Aqaba. Staircases like piano, or colorful ones with sayings, or the one with umbrellas are things which not many tourists see since they go with a plan and usually go from point A to point B without checking the in-between. I like to get lost in alleys and streets and just look left and right and see if my eyes catch something spectacular.
This slideshow requires JavaScript.
Where to stay in Jordan
When I travel, I almost always use Booking.com. This time I had my accommodation booked until my stay in Petra and then I left it open so I could see how I feel like on the way and make ad-hoc decisions. Not having a reservation after Petra in a way helped me because I did spend that one night in the cave. Well, caves can't be found in Booking.com but you can always contact Ali once you are in Wadi Musa and they will arrange it for you.
PIN IT!
Did you like it? Pin it for others to read. Sharin is caring!