Juba, the capital of South Sudan, is not a place people think of or are advised to visit. When I decided to move to South Sudan (in Yambio), my family and friends were worried about my safety and security, and for sure it doesn't help at all knowing that the country is among the most dangerous ones to live in.
However, if you end up for one reason or another in Juba, here are a few things you should know:
a Yellow Fever card is mandatory to enter the country
the visa fee is $100
taking pictures in Juba (and anywhere in South Sudan) is not permitted without a photography permit
the currency is South Sudanese Pound (SSP) and at the moment (January 2020) the exchange rate to USD is 320 (subject to change) – it looks like you're rich even when you exchange as less as $100
the official working languages of the country are Arabic and English (so a little bit of Arabic would help your stay/visit).
Prior to moving to South Sudan, I got two books that I read and helped me understand more about what happened here and also prepared me for my move. Those are "A Long Walk to Water: Based on a True Story" by Linda Sue Park and "The Beat of a Different Drummer – My South Sudan Journey" by Jenny C. Mah; and I'm currently reading the book "Africa: Altered States, Ordinary Miracles" by Richard Dodwen which is a comprehensive book on Africa and has a chapter in Sudan (South Sudan) that explains more about the history.
Where to go and what to see in Juba?
AFEX Camp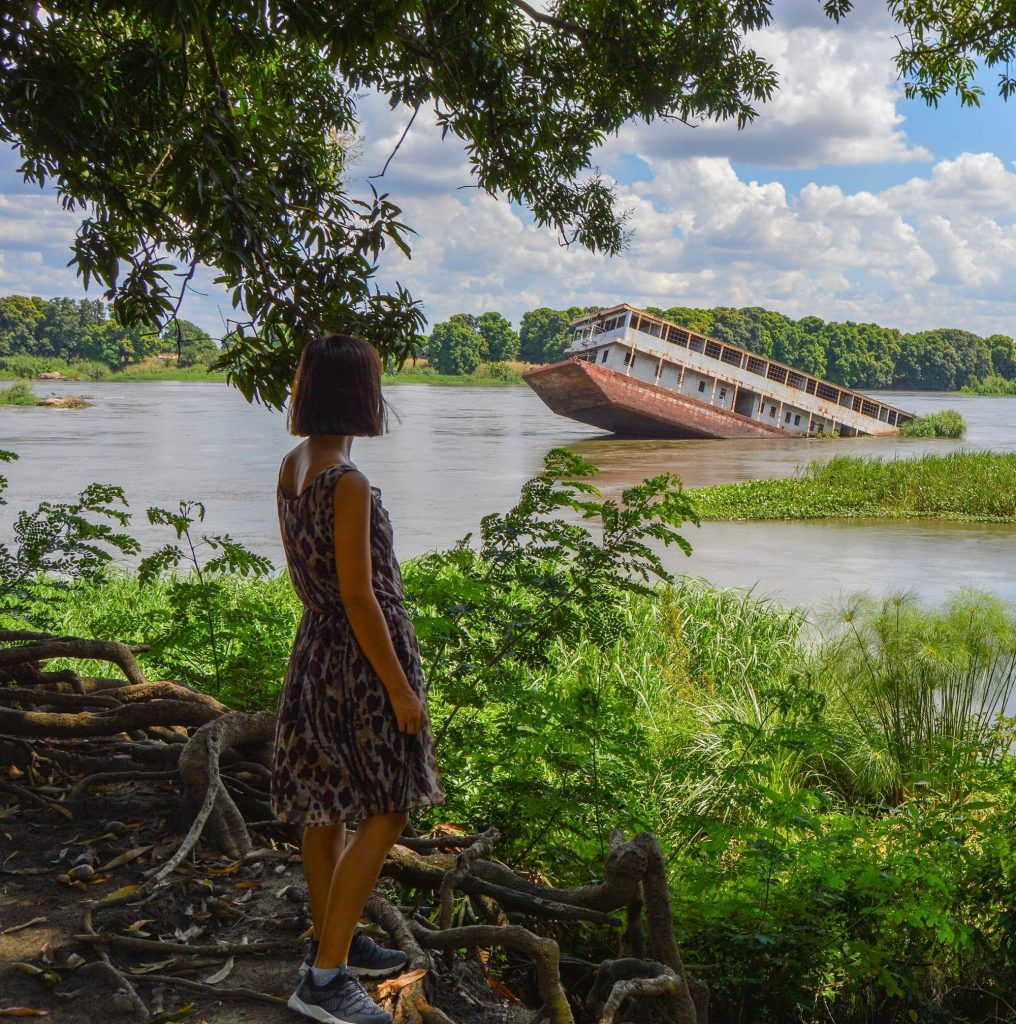 AFEX River Camp was the first site I went to after I moved to South Sudan (outside of Tomping and the airport where I had to go back as my luggage didn't arrive with my flight). It is also among the pioneers of accommodation in Juba, established back in 2006. Situated by the White Nile River and offering a beautiful view alongside with relatively good food (for my picky personality), it's a great place to have your brunch or even just a drink. It doesn't even seem like you're in South Sudan (and now I sound just like people telling me to go to someplace in Amman which was nothing like a Middle Eastern cafe I wanted to visit. It was good but didn't feel Jordanian.)!
What still is unclear to me is the shipwreck in the picture. I need to know what happened to it, how did it come to be there; however, I haven't found the right person to answer these questions yet.
If you know about it, please let me know!
John Garang Square
Since photography isn't allowed in Juba, I don't have one to present here. But you can visit the square when in Juba. There is also a memorial site across the Garang statue but I haven't made my way there yet and can't tell if it is allowed to visit or not.
Garang was a politician and revolutionary leader who led the Sudan People's Liberation Army (SPLA) from 1983 – 2005 and served briefly as First Vice-President for three weeks only due to the airplane crash on his way back from Uganda. Garang is the person you see in each of the South Sudanese currency.
Da Vinci Restaurant
Da Vinci Restaurant is by far one of my favorite places in Juba. The location is great, just by the White Nile River; their food is delicious; their service is much better than in the other places I've been in Juba and Yambio – faster and understandable; they also have live music which gives another vibe to the place.
I've been there twice so far and I guess I'll be going back every other time I get back to Juba.
Hotel Diplomat
Hotel Diplomat is a well-known name for anyone working with UNMISS. It has access from the Tomping compound which makes it a good alternative for the staff to have a meal there as a change from the usual tukul inside the compound. Their food is relatively good, although don't let the names fool you – always double-check if what you are ordering is the one that you're getting. The terrace at Diplomat provides for a good environment to have a relaxed dinner.
Lily's Cafe
Lily's Cafe is a pretty modern place in Juba, very close to UN Tomping (located at the Airport Road). It serves a variety of food, including Chinese food and also fast food and, most importantly for me, good coffee. It also has a bakery and cakes section. Additionally, Lily's has a supermarket where you can get your groceries and all you need while in Juba.
Phenicia
A restaurant and supermarket, Phenicia provides for a good place to feel out of place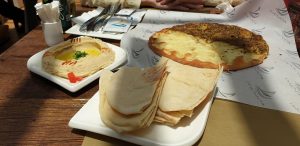 (mainly for us expats as we live here and once in a while we need to mentally pretend to be somewhere else). They have good Middle Eastern food and the service is fast. Their prices are a bit high for the living standard of the local population and portions not as big as I'd love to.
Nevertheless, it is a good place and (if I am not wrong) the only one where cards are accepted.
Where to get your groceries?
In addition to Lily's and Phenicias, I've heard of a new supermarket called "The Mall" which is managed by some Chinese businesspeople and their prices are more reasonable than the other two mentioned above. However, for those wanting to feel the real Juba vibe, they can go to Konya Konya – the local market where everything is available. Just be mindful of your surroundings and be careful of pickpocketers – who are found everywhere in the world, right?
Where to stay in Juba, South Sudan?
Since I'm a UN Volunteer, I can only stay at the cleared hotels form UNMISS such as Hotel Diplomat where I stayed last time. The staff at Diplomat are helpful and understanding and it helps that it is located very close to the airport.
PIN IT!
Pin this for later and others to find it! If you have any questions, let me know!